As you approach the Meritus model home in the scenic Cliffs Community at Lake Keowee, a flagstone driveway welcomes you. The mastermind behind the driveway is the talented landscaper, Eddie Whiten. He was the Landscape Manager at the Cliffs for five years, and now owns a landscaping company called Ponds and Paths. We asked him to experiment with a solution for a custom driveway. He chose a design that has been on his mind for years — a flagstone driveway. It has a timeless beauty, but more than a beautiful landscaping feature, the driveway has several other benefits that make this feature worthwhile.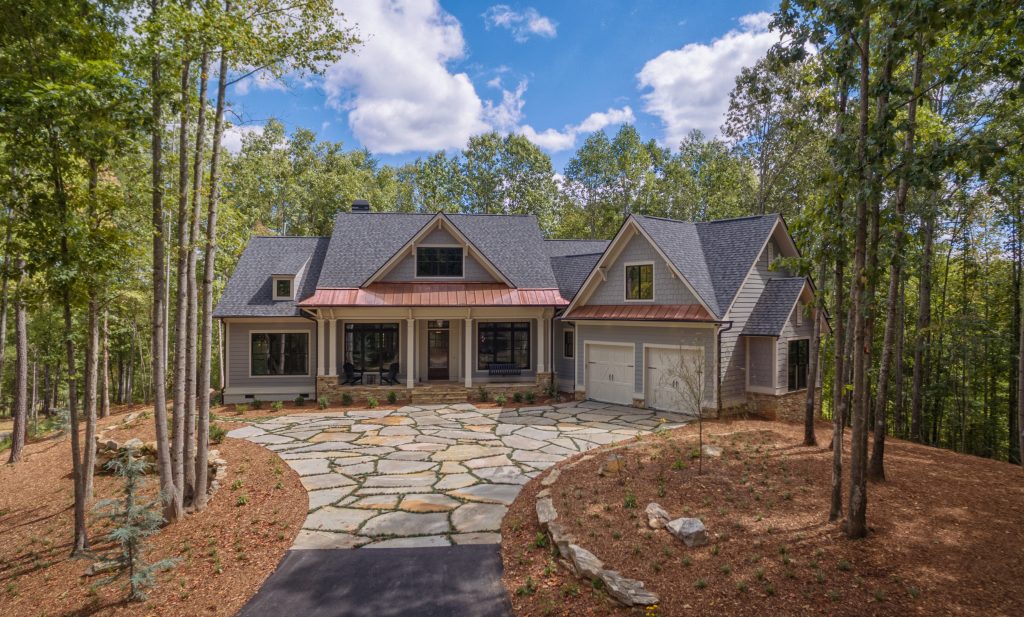 1) Easy to maintain landscaping.
As complex and detailed as the final product appears, the upkeep is surprisingly minimal. The grass Whiten chose is a dwarf mondo grass, which is evergreen and doesn't grow taller than 1.5-2 inches. Because it is dwarfed, it never requires cutting. The grass also has an intense, living root system, which webs tightly around the rocks and acts as a mortar. Unlike asphalt or concrete pavement, the flagstone driveway never stains and rarely cracks, even in harsh weather conditions.
2) It's Cliffs-approved.
Many lakeside communities, including the Cliffs, require permeable surfaces leading to a dock so that water easily dissipates, rather than pooling up. A flagstone driveway is an attractive solution that allows rainwater to flow through the intentional cracks.
3) The flagstone softens the entrance to the house.
The flagstone chosen for this driveway is 5- to 6-inch flagstone. It was selected for its strength, color diversity, and even surface. The gray flagstone with brown marbling creates a softer entrance to the house. Paired with the architecture and color scheme of the home's exterior, the look has a rustic elegance.
A flagstone driveway can be a lifelong enhancement for your lakeside property. Building your dream home? Consider pairing a unique landscaping feature with your custom-built home. 
—
Meritus Signature Homes is the premier custom home builder across the Upstate, SC and Western NC regions. We build affordable luxury in the area's most elite communities, including the Cliffs, Lake Hartwell, Lake Keowee, Greenville and Anderson. For more information, contact us at 864-261-7699.